Armstrong Wolfe Institute
For Chief Operating and Chief Control Office Professionals
​

Our mission is to make the COO a globally recognised profession, to be accredited and in doing so, making it a go-to career destination.
Our purpose is to raise the profile and impact of the COO and CCO functions in Finance by driving innovation, while redefining and enhancing their roles and capabilities.
We have designed 3 programmes* to help:
Innovation Hub
engine of best practice innovation
COO Academy
Addressing under representation and inequalities
*See below for more details on what each programme has to offer.
Redefining Roles
Redefine the role of the Operating and Control Officer functions, from Business Manager to COO or CCO to meet the emerging challenges of the finance industry and in a way that drives business value and builds trust.
Advancing Development
Advance the development of innovation, solutions, competencies and skills in a targeted, balanced manner to support the COO and CCO's evolving function.
Developing Opportunities
Develop opportunities and a career path for talent from diverse backgrounds to bring rich perspective and an effective source of leadership in this critical role, whether direct from secondary/tertiary education or laterally from other functions or industries.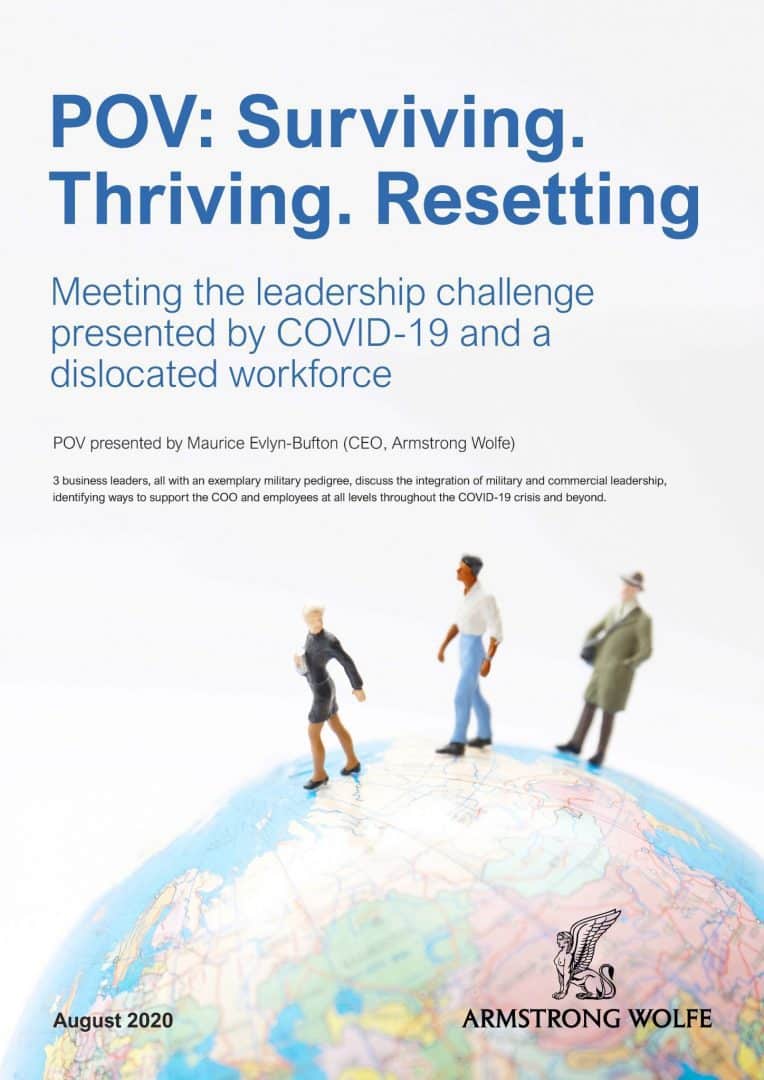 POV: Surviving. Thriving. Resetting.
Meeting the leadership challenge presented by COVID – 19 and a dislocated workforce
Innovation Hub
Drive independent research and development of innovative concepts and ideas or frameworks (leveraging the Armstrong Wolfe forums) to effect solutions and drive value creating activities.
Learning Hub
The learning hub is an ecosystem of coaching, training and development.
COO Academy
The Institute will launch the COO Academy in 2021. Targeted at supporting underrepresented groups in joining Financial Services as a career choice.
WCOOC
Our diversity, equity and inclusion programme strives to support the underrepresented by leveraging the influence and good will of the female global COO community.
Advisory
Armstrong Wolfe Advisory (AWA) is the consulting division of Armstrong Wolfe, focused on providing project management and execution services to the COO.
COO Academy
Raise the profile and impact of the COO and CCO functions in Finance by driving innovation, while redefining and enhancing their roles and capabilities.
Collaboration
The collaborations encompass the Armstrong Wolfe's quarterly COO forums across several regions.
Podcasts
Listen to content on demand from our most recent events and Mental Health Awareness Week.
Conduct & Culture Summit
Watch the entire Conduct & Culture Summit on Demand or register your interest for our next event.
iCOOC Membership
Our membership is one degree of separation from primary business decision makers. They are the ambassadors of conduct with 'COO' a trademark for ethical behaviour. This community is uniquely positioned to transform Financial Services.
​iCOOC's mission is to help them meet this challenge by working better together.