Connecting the global Chief Operating Officer communities of Financial Markets, Investment Banking and Asset Management.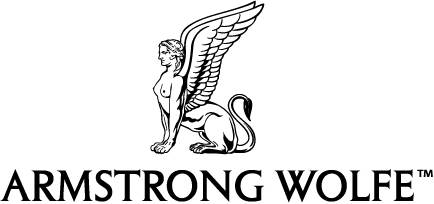 We are a Chief Operating Officer advisory company with over 25 years focused on serving the Financial Services COO and business management. We are uniquely positioned to support this executive group, and through the International COO Community (iCOOC) and Women in the COO Community (WCOOC) we are their trusted partner.
iCOOC provides a Chatham House Rule platform for open debate, information sharing and solutions development to meet market wide non-proprietary challenges; we provide industry expertise through our global advisor network (AWA); education and training through our institute (AWi); extensive content through the AW Knowledge Centre; and have a network of over 2,500 women in executive business management roles supporting WCOOC and its mission to inspire tomorrow's leaders and address inequalities.
We are the sole proprietor of this global COO network and do not underestimate the responsibility and privilege bestowed upon us.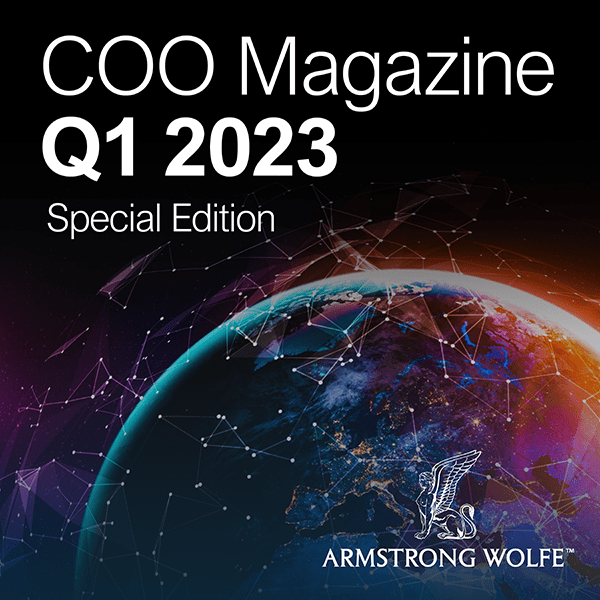 COO Magazine
Q1 2023
Special Edition
The role of the COO in developing and implementing ESG strategies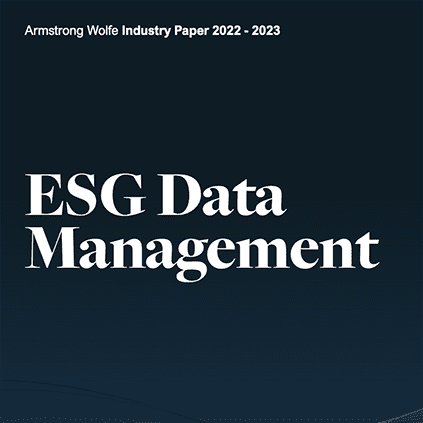 Environmental, Social and Governance Data Management Industry Paper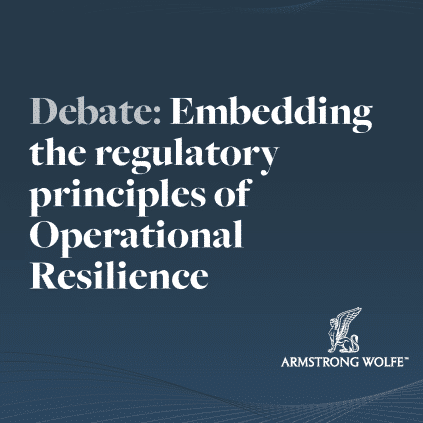 Debate: Embedding the Regulatory Principles of Operational Resilience
2022 Industry Papers out now!
An aggregation of the voices, opinions, and thoughts of the International COO Community
The International COO Community (iCOOC)
Bringing together the worldwide business management community to share ideas, expertise and thought. To collaborate and develop solutions and common approaches to produce efficiencies and better outcomes, helping to shape the industry of the future.
Women in the COO Community (WCOOC)
Our diversity, equity and inclusion programme strives to support the underrepresented by leveraging the influence and good will of the female global COO community.
Armstrong Wolfe's Women in the COO Community (WCOOC) initiative has been running since 2017. Well-established globally, in New York, Toronto, London, Hong Kong and Singapore, we have members from over thirty different organisations.
Asset Management Working Group Programme
The Asset Management COO community working together to generate thought leadership and develop solutions to address market wide non-proprietary challenges.
Participating Members: Amundi, Baillie Gifford, Barings, Credit Suisse Asset Management, DWS, First Sentier Investors, Franklin Templeton, Legal & General, J.P. Morgan Asset Management, Morgan Stanley Asset Management, Ninety One, Northern Trust Asset Management and PIMCO.
Financial Markets Working Group Programme
The Financial Markets COO community working together to generate thought leadership and develop solutions to address market wide non-proprietary challenges.
Participating Members: Bank of America, BMO, BNP Paribas, BNY Mellon, CIBC, Citi, Credit Agricole, Credit Suisse, Deutsche Bank, HSBC, ICBC, ING, J.P. Morgan, Lloyds, Mizuho, MUFG, Natixis, NatWest Markets, RBC Capital Markets, Scotiabank, Standard Chartered, State Street, TD Securities, TP ICAP, UBS and Wells Fargo.
What Our Members Say About Us
"Maurice and the team at Armstrong Wolfe have been a great resource for our COO team at Wells Fargo. Their insight into critical issues that impact the COO community is invaluable and their ability to create a vast network of like-minded professionals across the financial services industry is something that our team finds great value in."
Steven Kiker – COO, Wells Fargo
"Armstrong Wolfe provide a fantastic forum for COOs – and other C-suite roles – to share, learn, debate, and develop as a community. Their intellectual promptings, with which the AW team seed debates and discussions, have helped me to develop and grow and to make connections with peers across my industry."
Iain Heeps – UK COO & Deputy UK CEO, BNP Paribas Asset Management
"The ICOOC is beneficial to my role as a COO; it leads on the issues that matter most, scans the horizon to help COOs plan their responses to emerging topics and enables peer-led learning and problem solving."
Marc Berryman, Chief Operating Officer, Credit Suisse Asset Management Limited
"I am not an easy convert when it comes to communities of this nature. My departure point is always skepticism. From our first meeting, the enthusiasm with which Maurice spoke of the initiative together will his experience piqued my interest. The depth of immersion in the topic and importance of connectivity doesn't stop with Maurice – Gwen, Hollie and Wade are all a pleasure to deal with.
The value I see in Armstrong Wolfe's iCOOC is the commitment of the team to foster genuine, collaborative engagements. Throughout the duration of COVID, spontaneous relationship building had to be replaced by engineered and structured encounters. This format runs the risk of meeting fatigue and superficial connections – but the team ensured the topics were relevant and kept the groups accountable for tangible outputs which demanded a degree of rigour of the conversation.
In addition, I was fortunate to be part of a recent face to face in London which was an absolute pleasure and bore testimony to the rapport that had built up amongst a number of us over the preceding year. Finally, the team is always striving to broaden the circle vertically within organisations (with events pitched at different levels) and across the industry (maintaining appropriate representation). Thank you to the team for your continued efforts and I look forward to the next 12 months."
Khadeeja Bassier, Global COO, Ninety One
"Armstrong Wolfe's knowledge and understanding of the asset management industry and the issues it faces is impressive, along with their ability to mobilize speakers to address topics of interest, create conversations and provide actionable advice.  This has been particularly helpful during Covid, when understanding what the industry is doing is critical to operating a business during a crisis."
Cynthia Nestle – Americas COO and Global CAO, DWS
"A thank you to Armstrong Wolfe for organizing the COO forums. I look forward to discussing key topics in the industry with peers at other organizations, as well as gaining the perspective from your sponsor. It's a great platform for further building the COO network, so we can coordinate on initiatives important to us."

"At Societe Generale, we recognize and value what diversity brings to an organization, and we're happy to partner with WCOOC to foster diversity and inclusion throughout the Financial Services industry. We believe that by continuing to seek out ideas and opinions from those that are different from us, we can build on stronger foundations."

"The discussion of how to use behavioural science to build a culture that motivates everyone in the organisation and then protect it from bad actors was a real eye-opener".
David Lean, Chair of the Association of Online Due Diligence
"A really useful summit, which allowed representatives of many of the financial world's great firms to come together on a global stage and share interesting views and insights into risk management and governance. – Well done Armstrong Wolfe!"
Jason Hope, General Manager, Business Controls, Monitoring and Remediation, Westpac Institutional Bank
"I must say that issue #3 is very impressive. It is not often that I read 3 articles from a single issue of a trade magazine….but I did so in your latest issue. The whole thing is very impressive, professionally done, good choice and variety of articles.  Congratulations. "
"Maurice and team, congratulations on a very successful event marking not only a high point of your many years of bringing value to the FS COO community, but also to an intense year of launching the community programs and of accelerating AW's transition into a purpose-focused enterprise. Well done!"
David Ornstein, Former MD, COO, Barclays Investment Bank USA
"As usual the Armstrong Wolfe team pulled together a splendid event. Unscripted and with the right participants, discourse was open, transparent, topical and punchy. Right context at the right time and unlike many events recently, the openness and participation within the COO community ensured this was a valuable and worthwhile use of time. Well done and looking very much forward to future events"
David Sharratt, China COO, Commerzbank AG Shanghai Branch
"It's always a pleasure and enriching to participate in the events organized by Maurice and his team. There is always something to share with and to learn from others participants."
Eric Rabin, Chief Operating Officer, Societe Generale
"The summit catalysed real insight and collaboration on a spectrum of thorny problems, which we all need to solve and not merely for the sake of our organisations or industry, but for society at large."
Sam McGrath, Managing Director, Corporate & Institutional Banking, Standard Chartered Bank
"It's great to see the industry being less fearful of sharing problems and issues – it has been a difficult few years and many banks have attempted to innovate looking inward rather than collaboratively in the industry. Forums such as these are crucial to allow thought leadership to be shared where there is little company IP advantage at stake – this will in turn lead to far more collaborative solutions, saving cost, creating efficiency and ultimately benefitting the customer, investor, shareholder, employee and other stakeholders."
Rich Evans, Global Solutions Lead, Regulation and Compliance, DXC Luxoft
"A great opportunity to contribute and learn across a range of relevant topics which cut to the heart of applying innovation and creativity in the FS context.  Illuminating the mutually beneficial relationship between the FS industry and human evolution.  Many thanks to Maurice, Gwen and the whole Armstrong & Wolfe team for putting together such a great line-up."
Christine Moran Currently studying Corporate Sustainability at Oxford Said Business School, former EMEA Head of Culture and Conduct, State Street
"Armstrong Wolfe provide a fantastic forum for COOs – and other C-suite roles – to share, learn, debate and develop as a community.  Their intellectual promptings, with which the AW team seed debates and discussions, have helped me to develop and grow and to make connections with peers across my industry".
Iain Heeps, Executive Director, UK COO & Deputy UK CEO, BNP Paribas Asset Management
"What I liked [about the summit] was that in almost every session the discussion was taken to the "how do you operationalise this [solution/other]?"
Virginia Laird, MD, CAO, EMEA Markets & Securities Services, Citigroup
"Through its impressively diverse panel, the summit provided a unique opportunity to gain practical insight towards the evolving role of the COO in guiding organisational transformation and providing purpose driven leadership in relatively unique circumstances."
Ashwin Chak, MD, COO, Markets and Investment Banking, Asia ex Japan, Mizuho Securities
"Armstrong Wolfe continues to deliver high-value and provide deep insights, covering our current environment and providing a future-focused outlook on tomorrow's opportunities. Our membership has been a powerful benefit that has enriched our entire team."
Summer Hinton, Chief Operating Officer, BMO Capital Markets
"I love Armstrong Wolfe's purpose. It's such an important platform to help spread cutting edge ideas that can really transform and shape the corporate culture through multiple industries."
Mizuho, Business Manager
"Our partnership with Armstrong Wolfe is seen as a gateway to access network intelligence to improve our business decisions."
Sanjeev Verma, Global FM Sales COO and Head of Conduct and Control, Financial Markets
"An excellent and finely balanced debate on 'Purpose v Controls' with the audience scoring marginally supporting Purpose over Controls but both debating teams ultimately showing you really need both in equal proportions. A great debating format and a lot of fun"
David Shalders – Group COO, London Stock Exchange
"Being part of the Armstrong Wolfe COO Summit helped raise issues of importance to the financial services sector and gave great insights into what matters to its professionals. AW and FMSB share common goals in the promotion of fair and effective markets."
Myles McGuiness – CEO FMSB
"Armstrong Wolfe organised a fantastic summit and thought-provoking discussion building on the excellent 3LoD paper.  There will always be a need for risk ownership as well as challenge and oversight, but it should be deployed on a case-by-case basis varied by maturity, materiality, and risk appetite.  The very existence of separate 3 lines functions create a tick box mindset, and inefficiencies that destroy value.  Increasingly I think that the Risk Function should create value as its number one purpose and the rest will follow…"
Nathan Jones – Head of Operational and Business Risk, Shell Trading
"The COO Summit organised by Armstrong Wolfe was a great opportunity to elevate the discussion about the "three lines of defence model", treating it more as a lens on risk infrastructure rather than a thing in itself, re-establishing the primacy of outcomes over functional ownership as the driver of effective design and implementation and recognising how, at its best, it harnesses diversity of thought for the good of the organisation."
Ted MacDonald – FMSB
"Congratulations on a very successful Summit. Immaculate hospitality and organisation. Much enjoyed by all. Some tremendous talks. A privilege for Amicus to take part. Huge thanks to all your team."
General Sir Peter Wall – CEO Amicus
"I wanted to drop you and the team a short note to say thank you and well done – I know how much work goes on behind the scenes at events like this.  I thought it was superbly well organised and managed, I very much enjoyed it.  I'm sure you'll already be on to the next challenge, but I do hope you have time to reflect on a great job which will have enhanced the reputation of Armstrong Wolfe.     Well done to you and the team.  Thank you"
Ged Salzano
"Thank you very much for hosting this I had a really enjoyable time and was delighted that my concerns about the timing of the debate were clearly ill founded as it seemed to go swimmingly with great engagement from everyone. Sincere thanks also to Maurice for staying up late with me! I hope to catch up with you both soon and please feel free to put me on your list for future events.  Very best wishes, Toby" 
Toby Billington – Managing Director, ICG Business Risk Controls, Citi
"Honestly, this was a great session. I'd have changed nothing.   Thank you for pulling this together". 
Derek Pattison – Global Head, GBM Business Risk Controls
"I thought the quality of speakers and the panel discussion was excellent, well done.  It was well worth the flight and journey from Australia to attend."
Jason Hope – General Manager, Business Controls, Monitoring and Remediation, Westpac Institutional Banking
"Congratulations on a fabulous couple of days. Great content, great energy. As I said a couple of people said it was the best conference they had been to. Thank you for your generosity in including me and particularly in the debate which was a lot of fun. I loved the prize and will treasure it. I hope it was a success for you. Armstrong Wolfe's reputation is now formidable."
John Rosling – CEO Contexis
"Thank you for inviting me to the summit and congratulations on putting on a fantastic show. I thoroughly enjoyed it! The sentiment from the people I've spoken to has been extremely positive.   I'm flying out today and leave with some great experiences."
Harry Toukalas – CEO, Galaxy Science
"A great success on summit 1.  Topics were very relevant, and the speakers were very thoughtful and effective. Well done the AW team"
Our membership is one degree of separation from the executive. They are the ambassadors of conduct and the 'COO' a trademark for innovation, execution and ethical behaviour. They are uniquely positioned to transform financial services, add value to the society of nations and support the global economy.
​iCOOC's mission is to help them meet this challenge by working better together to build a brighter future for all.
Gift Aid for Ukraine
GCF Bosnia, the charitable foundation of Armstrong Wolfe (www.gcfbosnia.org), has established a means to directly support the mothers and children of the Ukraine escaping the ravages of war, this effort will come under the name Korczowa Children's Foundation (KCF), Poland (For the children of Ukraine).